United States Department of Agriculture (USDA) Undersecretary Robert Bonnie, along with California Department of Food and Agriculture (CDFA) Secretary Karen Ross, Jeff Yasui with USDA/RMA and Carlos Suarez with the National Resources Conservation Service (NRCS) spent the day on a tour of the Sacramento Valley co-hosted by the CRC and NCWA. They heard from biologists and conservationists on environmental impacts due to drought as well as met with local businesses that are key in California's rice production process.
In the first stop, Undersecretary Bonnie got a firsthand look at the unique relationship California rice has with the environment, seeing rice fields in production within the Yolo Bypass Wildlife Area, which is managed by the California Department of Fish & Wildlife (CDFW).
CRC's Wildlife Programs Manager Luke Matthews and Environmental Affairs Manager Paul Buttner spoke about the collaborative efforts underway to maximize winter habitat for the millions of migratory waterfowl that travel the Pacific Flyway annually, relying on the nutrients from the decomposed rice straw during the winter months.
Jeff McCreary and Marc Engstrom with Ducks Unlimited and Jacob Katz with CalTrout also highlighted the role rice plays in conservation for wildlife. Other important topics included ongoing efforts to reconnect the floodplain with David Guy and Todd Manley with the Northern California Water Association (NCWA). Also in attendance was Congressman Mike Thompson (D-St. Helena), who earlier this year introduced a bipartisan resolution in the House of Representatives recognizing the decades of work California's rice industry has done to support our environment.
The next stop on the tour was Williams, Colusa County, just one of the many rural ag communities within the Sac Valley that has faced devasting work and job loss due to drought. From the farm, to dryers, to the mills, stories of concern and extreme hardships were shared by those who play a vital role in California's rice production workforce, including Rick Rhody with Farmers Rice Cooperative, Carl Hoff with Butte County Rice Growers Association, Molly Dennis with De Pue Warehouse rice drying & storage, and rice grower and Colusa County Supervisor Denise Carter.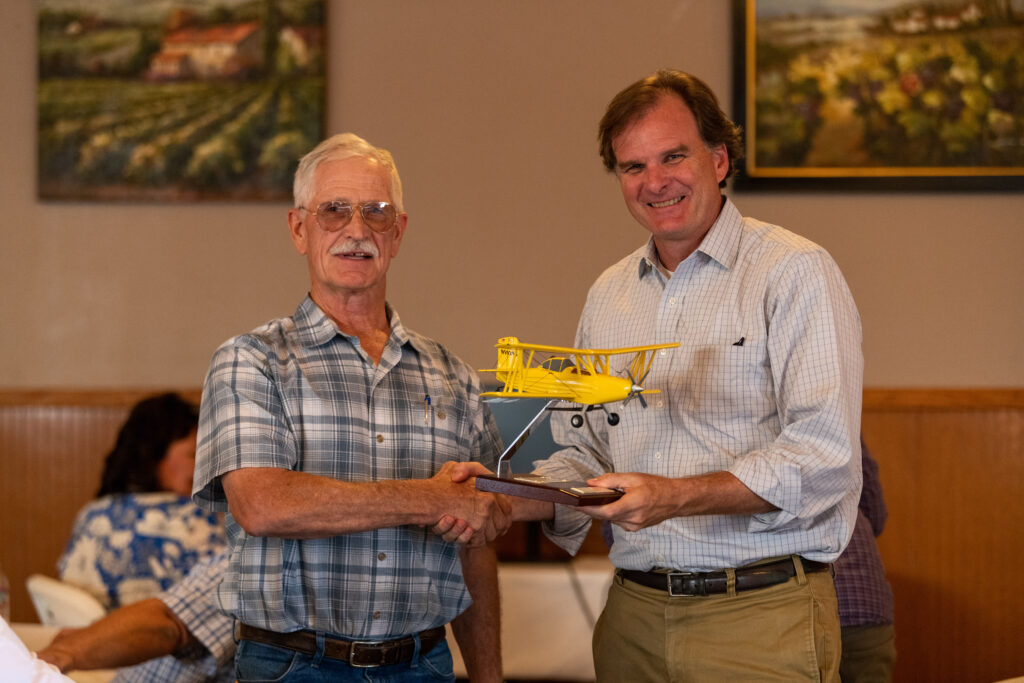 In a sobering moment showing the reality of just how unprecedented this year has been, pilot Rick Richter presented Undersecretary Bonnie with an engraved model ag aircraft. The yellow planes are synonymous with Sacramento Valley agriculture and have not been seen or heard flying over the region as frequently this year. Richter shared how he and his wife have spent four decades building up their ag aircraft company, Richter Aviation, based in Colusa County. This year, their family business is operating at just 20% of normal, forcing planes to be grounded and positions typically held by skilled pilots to go unfilled.
Others who shared how job loss has hit their Sac Valley businesses included Barry Powell with North Valley Ag Services, Emily Rooney of the Ag Council of CA, Mike Montna with the CA Tomato Growers Association, and Renee Pinel with Western Plant Health Association.
We are appreciative of USDA Undersecretary Bonnie taking the time to see and hear the effects this drought crisis is having on the California Rice industry, Sacramento Valley ag businesses and our environment.