Today's Circle of Life Reception in Sacramento provided an excellent opportunity to convey the importance of California Rice to key audiences.
We recorded our second-highest turnout, with 149 on hand at the Sheraton Grand Sacramento.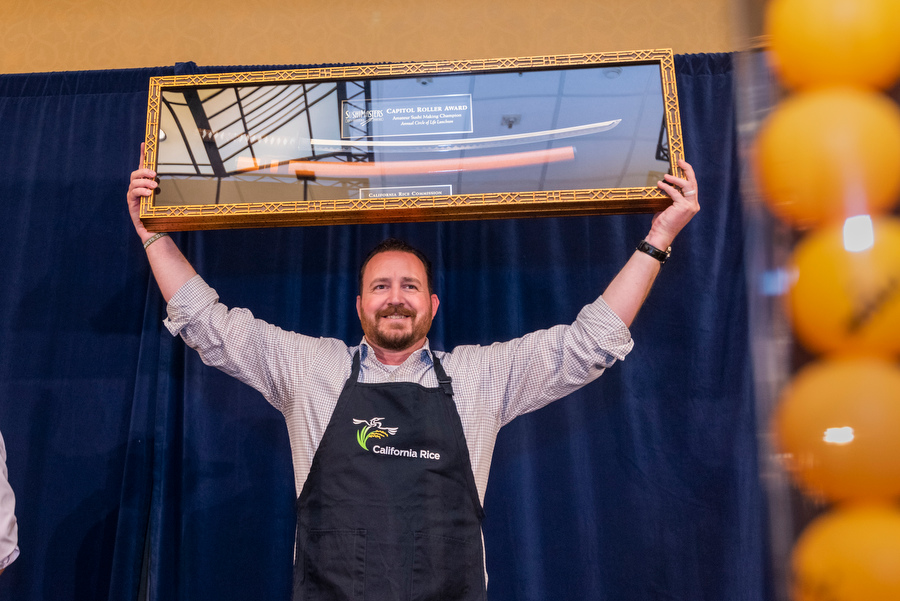 Assemblymember Devon Mathis captured the coveted Capitol Roller award and a framed Samurai Sword, winning a close competition between competitors Senator-elect Brian Dahle, Senator Connie Leyva, Assemblymember Autumn Burke and Assemblymember Adrin Nazarian. Billy Ngo of Kru Restaurant once again provided expert guidance in their rolling a California Roll.
Other highlights included the Circle of Life Award going to Assemblymember Cecilia Aguiar-Curry for her instrumental work on AB 2348, the California Winter Rice Habitat Incentive Program. Artist Tim Collom provided remarks about Rice Road, his commissioned painting of a Yuba County rice field that provided this year's rice box art.
Media coverage included KCRA 3 Reports, KFBK NewsTalk 1530, Fox 40 TV and Capitol Morning Report.
Our Circle of Life Reception is one of the keys to our continual work to ensure target audiences such as Legislators, regulators and media understand the tremendous benefits California Rice provides to our state.