The latest trapping data shows rising Armyworm detections in the Sacramento Valley.
Here's an update from UCCE Rice Farming Systems Advisor Luis Espino:
"As we move into June, we are seeing the number of moths increase. Higher numbers seem to be found in fields that were planted earlier. As numbers increase, we will start finding worms in the field. We will be monitoring fields in the next few days to see if we can detect small worms.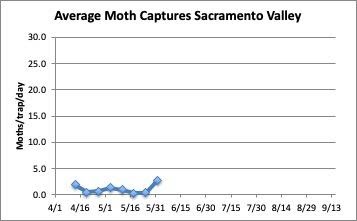 This year, Intrepid is available to control armyworms. Trials we have conducted in the last two years have shown that Intrepid provides very good 3 to 5 days after the application. Dimilin is another option that provides good control, with the caveat that its PHI is 80 days. Pyrethroids have not resulted in good control, even when applied very early trying to target small worms.

To see the numbers per trap, click on the link below for the Armyworm Monitoring Website."
More information: http://rice.ucanr.edu/armyworm_traps/